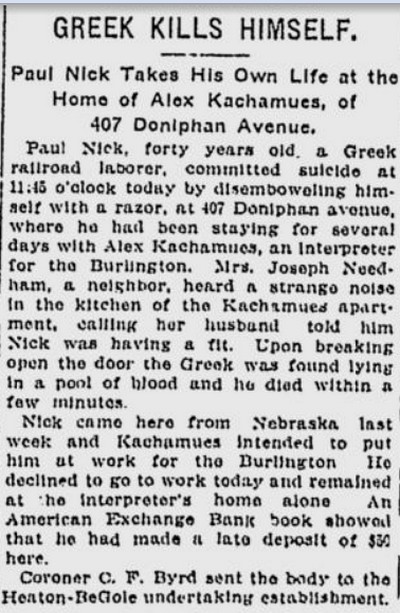 GREEK KILLS HIMSELF.
Paul Nick Takes His Own Life at the Home of Alex Kachamues, of 407 Doniphan Avenue.
Paul Nick, forty years old, a Greek railroad laborer, committed suicide at 11:45 o'clock today by disemboweling himself with a razor, at 407 Doniphan avenue, where he had been staying for several days with Alex Kachamues, an interpreter for the Burlington. Mrs. Joseph Needham, a neighbor, heard a strange noise in the kitchen of the Kachamues apartment, calling her husband told him Nick was having a fit. Upon breaking open the door the Greek was found lying in a pool of blood and he died within a few minutes.
Nick came here from Nebraska last week and Kachamues intended to put him at work for the Burlington. He declined to go to work today and remained at the interpreter's home alone. An American Exchange Bank book shoed that he had made a late deposit of $50 here.
Coroner C. F. Byrd sent the body to the Heaton-BeGole undertaking establishment.
Source: St. Joseph News-Press, 28 August 1912, p. 1
---
SUICIDES END CASES.
Prosecution of Karos for Embezzlement Dropped Because of Paul Nickola's Death -- Carpenter Was Accused.
On account of suicide of the principals, two cases were today stricken from the docket of Justice Nies' court. In one the defendant and in the other the prosecuting witness took his own life.
The case of the stat against Louis Karos, charged with having embezzled $243, property of Paul Nichola, was to have gone to trial next Saturday, but it was represented to the court today that Nickola is dead, having slashed his abdomen with a razor.
The other case was against Almonzo Carpenter, or "Dad" Carpenter, as the name appears on the court record. He was employed at the city dump and the charge against him was that he sold liquor on Sunday. The information was filed on affidavit of Robert Whitehead last Saturday, and it is said that the officers were looking for Carpenter when word came that he had committed suicide by taking poison.
Friends of Nickola have circulated a report at the courthouse that the local Greek colony, of which he was a member, was exerting pressure on him to induce him to dismiss the case against Karos. They seem to think that this has had something to do with his suicide.
Source: St. Joseph News-Press, 29 August 1912, p. 7